FIVE KEY STEPS TO BUYING OFF THE PLAN
FIVE KEY STEPS TO BUYING OFF THE PLAN
Interested in purchasing an apartment off the plan, but not sure what to expect? We've broken down the five main steps involved to help guide you through the process, from signing the contract to picking up the keys.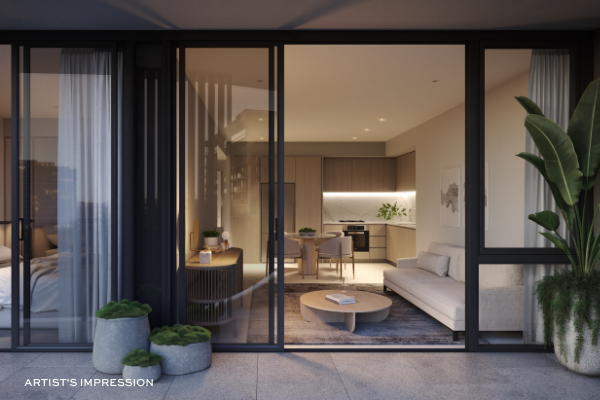 Step one – signing your contract
You've spoken to the sales consultant and selected your apartment of choice – what's next? The first step is signing your contract. Once you've done this, it will be countersigned by the developer and a copy forwarded to the nominated solicitor or conveyancer for each party. If you need help sourcing one, the sales team can point you in the right direction. If you're purchasing at Mirvac's Quay Waterfront Newstead, you'll pay a $2,000 holding deposit, which is fully refundable if you change your mind within the statutory cooling off period of 5 days. Depending on how far construction has progressed on the development, you'll also have the exciting task of finalising your colour selections and upgrade options, so you can start picturing making your new apartment home.
Step two – paying your deposit
Within 14 days of signing your contact, you'll need to pay your deposit. The standard deposit for an off the plan property is 10 per cent of the contract price. If you're a first-home buyer, you may be eligible for The Right Start by Mirvac, which allows you to pay just a five per cent deposit on select one- or two-bedroom apartments at Quay, with the balance five per cent due by 30 June 2022. The initiative is aimed at lowering the deposit barrier for first-home buyers, so you can secure an apartment at today's value while continuing to save before settlement. For more information on The Right Start by Mirvac, download the brochure. The deposit is typically paid via Direct Deposit or Cheque and will be held in a secure trust account by a solicitor. It is always wise to speak to your bank about what options are suitable to you.
Step three – construction of your property
Once your contract is unconditional, typically within 14 days of paying the deposit, you'll be contacted by your Settlement Consultant, who will keep you updated of key dates and relevant information while your new apartment is built. As construction nears completion, you'll start to receive information to assist you in the lead up to settlement, including details on your final inspection, a moving guide, brochures, fact sheets and other information to make settlement as seamless as possible. Your Settlement Consultant will also organise a preview when your apartment is almost ready, so you can measure for window furnishings and furniture, and start planning your ultimate interiors. This is also the perfect time to confirm your finishes, upgrades and inclusions are in accordance with your Contract of Sale.
Step four – completion of your apartment
Once your home is complete, a detailed Pre-Settlement Inspection will be conducted with your Settlement Consultant, where you'll receive your Home Owner's Manual filled with useful information on your new apartment. A checklist will also be filled out ensuring the apartment is of the highest quality, with a copy available for your records. Any rectification items will be actioned before settlement.
Step five – after settlement
You've settled, moved in and are enjoying your new lifestyle in your brand-new apartment. At Quay, all apartments have a rectification period to give you peace of mind, which will be explained in detail by the Settlement Consultant at your Pre-Settlement Inspection. As part of this, you'll have a dedicated Post Completion team available to assist you with any questions you have as you start to enjoy life in your new apartment. While purchasing off the plan may be daunting, particularly for first home buyers, it can be a straight-forward process, with benefits you may not have considered. These include the ability to secure your apartment at today's prices, while continuing to save before you settle, and the fact you're buying a brand-new apartment that will require minimal maintenance in the short term.
The team at Quay Waterfront Newstead is available to answer any questions you may have and to help you each step of the way. If you'd like to know more about purchasing an apartment at Quay or The Right Start by Mirvac initiative for first-home buyers, please register your details here and a member of the team will be in touch. The Right Start Terms and Conditions apply.